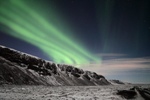 Icelandair has announced its Northern Lights City Break in order for UK travellers to experience the glorious Northern Lights in Iceland this autumn.

Scientists state that the recent increased solar activity has given an insight that the upcoming Northern Lights season this autumn/winter are going to be spectacular. The Aurora Borealis puts on a beautiful display from September to March in Iceland, where sightings are frequent due to its close proximity to the Arctic Circle.
The Northern Lights City Break is the perfect way to experience the Aurora Borealis, as this once-in-a-lifetime offer includes flights from any Icelandair UK gateway, three nights accommodation and of course an incredible Northern Lights tour.
This Northern Lights tour, operated by Reykjavik Excursions, takes place the following evening of your arrival. Passengers are picked up at their hotel and driven to an area outside of Reykjavik to search for one of natures' greatest phenomenon. You can expect every tour to be different, as the location will vary in order to get the best viewing opportunity. The tour generally lasts three hours and makes for an exciting evening out exploring the rugged Icelandic wilderness.
Furthermore, the Northern Lights City Break allows for spare days to explore Reykjavik, relax at the Blue Lagoon or enjoy one of Iceland's many cultural activities.
This offer is only available online, hotel upgrades are available at an extra cost. Icelandair flies from Manchester, Glasgow and London Heathrow.
View www.icelandair.co.uk to find out how you can experience the Northern Lights in Iceland.