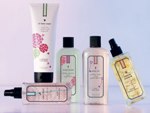 The duty free store at Iceland's international airport in Keflavik is now offering a wide range of Victoria's Secret fragrances, glosses, mascaras and eye liners along with several travel packages and travel sets.
Keflavik International Airport is one of only few European airports that offers duty free products to both arriving and departing passengers. The duty free shopping area hosts two restaurants, three cafes, a bar, a bank and eighteen retail stores selling both well-known products and unique Icelandic designs. Confectionary items, liquor, cosmetics and tobacco are also widely available.
Keflavik Airport's duty free stores are very competitive in price to other European airports, and prices are up to 50 percent lower than in Reykjavik retail stores. So when passengers need to make an Atlantic stopover, there is an advantage to stop and shop at Keflavik International Airport.
In addition, passengers waiting for their flights now have the special opportunity to relax and enjoy various massages and spa treatments at the Blue Lagoon store. Also, a seafood and health bar recently opened, offering passengers incredible fresh Icelandic fish before their flight.
Further details on duty free shopping in Iceland and the selection of Victoria's Secret products on offer can be found at www.kefairport.is/English