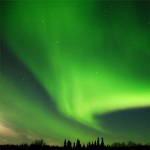 Increased Northern Lights activity is expected over the next coming months across Iceland, according to the Geophysical Institute at the University of Alaska Fairbanks.
As stated on its website, the Northern Lights forecast predicts that Iceland will be amongst the highest in active aurora forms, meaning an increase in the breathtaking light shows.
The Geophysical Institute recommends that the best time to view the aurora is near local midnight as this is when the most active forms occur. Aurora activity tends to come in waves during evenings, which are called aurora sub storms. However, the institute also insists that during an active period, there will be lulls in which the aurora activity is subdued; however, the patient observer will often see a new burst of activity within an hour or two.
Many people believe that the Northern Lights are one of the most incredible sights that mother-nature can conjure; especially within the unique alien landscape of Iceland.
With this in mind, Icelandair is offering daily flights to Iceland from three of the UK's top international gateways; London Heathrow, Glasgow and Manchester airport.
To experience Iceland and the Northern Lights visit http://www.icelandair.co.uk for further information.