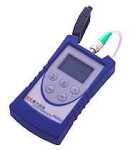 Toronto, Canada – GAO Tek Inc. (www.GAOTek.com) is offering its fiber optic power meter featuring a user-friendly interface, high performance and a compact design. It is designed for use in optical measurements of power and loss in LAN, CATV and long-distance optical fiber trunk communication systems, fiber optic R&D, optical passive devices and optical active devices.
This fiber optical power meter, model 3010, supports optical measurements for both single-mode and multi-mode fibers at five calibrated wavelengths which are 850nm, 980nm, 1310nm, 1480nm and 1550nm. Each wavelength is allows for different reference settings according to the specific need. It features auto-ranging, auto-zeroing and has a high resolution backlit LCD with easy readable graphic display. This fiber optical power meter consumes little power and offers FC-ST, FC-SC, FC-DIN and ST-SC adaptors for selection. It is easily carried with a durable design.
Visit http://www.GAOTek.com for more information or to purchase this product online.
For any sales inquires please contact:
1-877 585-9555 ext. 601 – Toll Free (USA & Canada)
1-416 292-0038 ext. 601 – All Other Areas
sales@gaotek.com
About GAO Tek Inc.
GAO Tek Inc. (www.GAOTek.com) is a global leader in research, development and manufacturing of high performance telecommunication testers, electronic measurement instruments, embedded development tools and other electronic products that serve the needs of electronic professionals internationally.