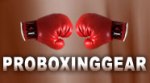 Proboxing gear supplies all types of boxing equipments right from gloves to Punch Mitts, Punching bags, Trainers suppliers, boxing shoes, mixed martial arts, Gym bags, safety accessories etc. Just visit www.proboxinggear.com and find out various discounts that we are offering on various products.
Boxing is one of the popular sports. If you notice apart from player's ability and potential also boxing gears matters a lot. A good boxing player should have a pair of good quality boxing glove before entering the ring otherwise it may cause injury to his hand. Sometimes it may also lead to hand fracture.
Nearly one third of boxing injuries are done to hands. While boxing if both boxing gloves and hand wraps are used it can prevent hand, thumb and wrist injuries. Pro boxing gloves can reduce hand injury during impact training e.g. Bag work, pad work and sparring. There are two types of boxing gloves bag/training gloves and sparring/fight gloves. Bag gloves are used to hit the heavy bag. The weight of these gloves is usually between 12, 16, 22 ounces. Most of the people prefer 16 oz for training gloves.
Sparring gloves are used by both professional and amateur bouts. In Amateur competition 10 ounce gloves are used and 8 ounce gloves are used for professional fighters. Red, blue and black are the most common color that is used in boxing. Pro boxing sells three sizes of boxing gloves, small, medium and large. So buy our boxing gloves now and enjoy your match without compromising on quality.
To get a good quality of boxing accessories, Pro Boxing Gear is the best shop to go for. Plenty of boxing accessories variety are available like boxing gloves, boxing shoes, MMA gloves, kickboxing equipments, boxing rings, apparels, weight lifting straps, abguard, hand wraps and gauze, etc.
For more info visit us at http://www.proboxinggear.com/