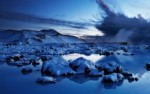 With over 50 years of experience, the Icelandic travel provider, Netbus offers high quality bus trips across Iceland to the beautiful Blue Lagoon, the breathtaking Jokulsarlon at Vatnajokull and the magnificent sites of the grand Golden Circle tour; Geysir, Gullfoss and Thingvellir. In addition, Netbus offers professional guided coach tours and airport transfers.
Netbus' professional guided coach tours are without a doubt the best way to experience Iceland as the company truly believes in providing its customers with expert knowledge about the country's unique landscape and history. The Glacier Lagoon tour, a popular with visitors, involves a day trip full of icebergs and waterfalls at Europe's biggest glacier, and the Highland Panorama tour; following in the footsteps of the Vikings through the historic beauty of west Iceland.
The Golden Circle Tour, another popular amongst visitors, involves a full day of exploring the unique volcanic landscape, from the waterfall of Gullfoss in the highlands, the spectacular Geysir, to the site of the first Viking parliament at Thingveillir. As well as this, Netbus offers five separate departures to the Blue Lagoon natural spa per day from Reykjavik and three departures a day from the Blue Lagoon to Keflavik International Airport.
"The Net Bus Golden Circle Tour was so much fun, especially within a smaller group. Netbus provided a punctual, informative and enjoyable service, all at prices cheaper than others! We shall certainly recommend Netbus to others," explained Jaz Dhillon, a happy Netbus customer.
To view further customer reviews and for more information regarding Netbus tours in Iceland, log on to www.netbus.is or follow on Facebook.