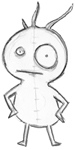 daGeek, a social networking and recommendations website, is set to change how people recommend particular passions and interests through the Internet by clever user interaction.
Networking site daGeek, formerly known as TellmeTwin, doesn't use machine-based algorithms but rather filters users by establishing their interests. This feature can go even deeper for the user by filtering out and finding people who have only similar or exact interests.
"As a daGeek user you are now able to select only particular passions to base your recommendations on. Lets say there are 10 popular movies you feel very strongly about (love or hate) but most people disagree with you. Use the new feature to filter others who share your interests in this particular area. Then ask them (through daGeek) which movie you should watch tonight. They are likely to be able to prevent you from seeing a blockbuster movie you would have hated, which everyone around you is praising," explained Einar Sigvaldason, founder of daGeek.
daGeek is constantly building new features for users to interact with each other; including a new lists feature, which as been integrated with the 'people finding' function. In addition, users can make lists based on favourite topics and recommendations.
Einar went on to say, "Similarly, for recommendations, you start by making a list of your passions. If your life long passion is Italy, salsa and reptiles and you absolutely hate U2, cats and Big-Lebowski-the-movie then use this feature to find your twins, people who share your 'peculiarity' only in regards to these particular passions."
TellmeTwin, predecessor to daGeek, was a Red Herring Top 100 European Technology company award winner in 2009 for its innovative use of social interaction and user recommendations.
To find out more about daGeek and to join visit www.dageek.com