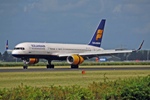 Icelandair plans to increase its flights to European cities, including Paris and Copenhagen, as well as to Seattle and New York in the USA this winter. An average of 82 flights will be departing from Iceland per week between November and March, which is an additional 10 flights per week. Over the five-month winter period, the number of flights will increase to a grand total of 200 compared to last year.
The Iceland airline will offer flights to Munich in Germany from the end of January until the beginning of March, which will be the first time that Icelandair has scheduled flights to Munich around that time of year. Also, the number of flights to various destinations will be increased both this autumn and next spring, i.e. in October and April/May, in an attempt to extend the tourist season.
"In spite of the severe fluctuations in our operating environment, the prospects appear quite promising, and we are increasing our capacity significantly. We are now seeing an increase in bookings compared to last winter in regards to both Icelanders' booking holidays abroad and tourists visiting Iceland following the Inspired by Iceland campaign. In addition, the flexibility of Icelandair, and our ability to adapt quickly to fluctuations enables us to add to our capacity at this time," Birkir Holm Gudnason, Icelandair CEO explained.
Icelandair's winter flight schedule will offer flights to most Scandinavia cities including Copenhagen, Oslo, Stockholm and Helsinki, as well as to London, Manchester and Glasgow in the UK. Flights to Amsterdam, Frankfurt, Paris and Munich in continental Europe are also scheduled, plus flights to U.S. destinations such as Boston, New York, Orlando and Seattle.
Further details about Transatlantic and European flights can be found at www.icelandair.com