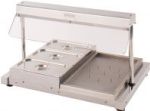 With the academic year drawing to a close, many educational establishments take advantage of the summer months to renovate and expand school facilities including the catering department. Just in time for the school summer break, the stainless steel manufacturer Teknomek will be offering discounts on a variety of its hygiene-standard stainless steel catering products for the whole of July.
Teknomek sells a variety of stainless steel catering products ready to fit and accommodate any professional kitchen. The Bain Marie & Heat Gantry top hot cupboards, a Teknomek top seller, are manufactured in stainless steel with painted steel cladding, 4 swivel castors, 2 locking breaks, sliding doors with an internal shelf and gastronorm tray fittings. As well as this, Teknomek offers cold units with refrigerated glass surroundings ideally suited to be fitted in any school canteen.
In addition, Teknomek offers all the necessities for front of house use, such as tables, trays and variety of trolleys including colour coded service trolleys, cutlery trolleys, plate trolleys, stainless steel tray trolleys and many more. Also available are heated plate dispensers manufactured in chromium nickel steel that come in double or single sizes, accommodating either 120 plates or 60 plates.
Teknomek is Europe's leading manufacturer of catering stainless steel furniture and equipment, providing high quality and cost-effective stainless steel solutions to industry hygiene requirements for all sectors such as pharmaceutical, catering and veterinary.
To view all of Teknomek's products and for further information about the catering equipment on offer visit www.teknomek.co.uk