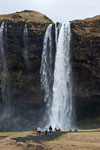 Iceland news channel, IceNews, has announced that Irish singer-songwriter Damien Rice is set to perform at tomorrow's special 'Iceland Inspires' concert, held near the now quiet Eyjafjallajokull volcano.
The open-air 'Iceland Inspires' concert, which is a part of the Inspired By Iceland campaign, will be taking place at the Hamragardar campsite next to the stunning backdrop of the Seljalandsfoss waterfall. This free concert will also be streamed live across the world via inspiredbyiceland.com. The Inspired By Iceland campaign intends show the rest of the world that Iceland is still a safe place to visit and more alive than ever despite the recent negative media exposure.
IceNews has reported that performing live alongside Damien Rice, will be Spiritualized: Acoustic Mainlines, Seabear, Lay Low, Amiina, Dikta, Glen Hansard, Hafdis Huld, Hilmar Orn Hilmarsson, Mammut, Parabolur, Pall a Husafelli, Pondus and Steindor Andersen. Pre filmed songs for the online streaming will come from For A Minor Reflection, Retro Stefson, Gus Gus and Hjaltalin.
IceNews is an independent online resource for Scandinavian and Icelandic news updated regularly. IceNews has been at the forefront for news regarding culture in Iceland, alongside the Inspired by Iceland campaign.
To find out more about IceNews visit www.icenews.is
For further information on this article contact Jonathan Baker, PR distribution at eNewsPR, via news@enewspr.com