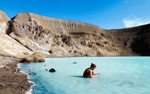 The Inspired By Iceland tourism campaign, today, made a world first after the Icelandic government encouraged the entire nation to unite online for one hour in order to support the country and its tourism. The momentous event took place today between 14:00-15:00 GMT, with the vast majority of the 320,000 inhabitants going online and sending messages to friends around the world inviting them to visit Iceland.
Inspired By Iceland is intended to help boost Iceland tourism after the number of visitors to the country dropped due to the Eyjafjallajokull volcano eruption. The campaign hopes to show the rest of the world that Iceland is still a safe place to visit and since the volcano eruption began only a small percentage of the country has been affected by the ash. Flights to Iceland have also returned to normal and are running efficiently.
The tourism campaign is being operated by the Icelandic government, Reykjavik City Council, Trade Council of Iceland, Tourist Board of Iceland, Travel Industry Association and numerous other Icelandic companies including Icelandair.
Birkir Holm Gudnason, CEO of Icelandair explained, "Here in Iceland, we believe our country is a beautiful place that inspires everyone who visits. The breathtaking scenery, the welcoming and kindness of people and also the unique culture are all aspects of our country that we want people to experience and to know about through this campaign."
Furthermore, the Icelandic government are also encouraging people from around the world who have visited Iceland to get involved by logging on to www.inspiredbyiceland.com and leaving a message about how Iceland has inspired them. In addition to this, there are a number of social networks that people can join in order to help support the Inspired By Iceland campaign such as, www.facebook.com/inspiredbyiceland and http://twitter.com/icelandinspired.
The campaign website contains information and news on other events taking place over the coming weeks, as well as information on Iceland and how people can offer their support.
For further details about the Inspired By Iceland tourism campaign visit www.inspiredbyiceland.com and for further information about flights to Iceland and holidays in Iceland check out www.icelandair.co.uk