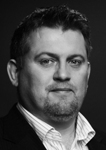 The second iFront Internet Marketing, event taking place on the 10th June 2010 in Belgrade, has announced that SEMPO board member Kristjan Mar Hauksson, Founder and Director of Search and Online Communications at Nordic eMarketing, will be speaking at this year's proceedings.
The iFront Internet Marketing event is the ideal opportunity for business developers, investors, investment funds, members of the governments from the surrounding countries, bankers, mobile operators, IT experts, Internet providers, media, marketing experts, web developers, web designers and visionaries, to exchange their ideas all under one roof.
This year, the recently announced SEMPO board member, Kristjan Mar Hauksson will be sharing his knowledge on consulting clients such as Vodafone, Fujitsu, Hewlett Packard, Hitachi on how to gain better visibility online.
Some of the other topics of discussion set for this year are: marketing and PR development strategy, software and mobile communication development, how to use online PR, how to present a new project and how to fund a startup company.
For further information regarding iFront 2010 in Belgrade visit www.ifront.rs.
To find out more about Nordic eMarketing and Kristjan Mar Hauksson visit  www.nordicemarketing.com.