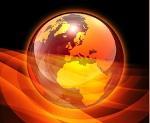 A new forum called TMT Finance and Investment Africa will bring leading telecom executives, financiers and advisers to London to discuss the race for infrastructure and growth now occurring across the continent. The event will take place on June 21-22 at America Square in the City of London and comes at a critical time for Africa's communications industry.
This international conference will review the latest opportunities in mergers and acquisitions, debt and equity financing, infrastructure investment, network roll out, towers sales, mobile licence opportunities, mobile payments, mhealth, WiMAX, 3G and LTE.
Dominic Lowndes, Managing Director of BroadGroup TMT Ventures, the event researchers and publishers of TMT Finance News Alert said, "We are really excited about bringing the TMT Finance event series to London to debate investment opportunities in African telecoms. There will be a huge amount of activity in this sector this year and we have an outstanding academy of speakers and sponsors to announce."
In what will be a powerful mix of presentations and interactive debate, event highlights will include keynotes by leading Telecom and Technology CEOs and CFOs, an expert panel session on M&A, and financing and infrastructure investment for Africa. The event will also provide exceptional networking opportunities with industry peers from service providers, finance and investment experts, law firms and professional intermediaries.
Lowndes added, "We expect over US$30bn of merger and acquisition activity in Africa over the next 12 months as regional operators realign their portfolios and infrastructure investors buy and build towers operations. So it will be a pivotal period for everyone involved in the sector. The investment opportunities emerging now will shape Africa's communications sector for the next decade."
Building on the heritage of the TMT Finance conferences in the Middle East and Asia, the events have achieved a reputation for delivering outstanding quality to international audiences, and generating awareness of investment opportunities.
Most recently, TMT Finance & Investment Middle East 2010 took place in Doha on April 25-26 and featured speakers and sponsors from Qtel, STC, Vodafone, American Tower Company, Booz & Company, Etisalat, Huawei, Citigroup, Goldman Sachs, Clifford Chance, JPMorgan, PricewaterhouseCoopers, Denton Wilde Sapte, Gulf Bridge Investment House, Standard Chartered, Microsoft, NSN, Intel, Skype, Zain and ZTE.
For further information visit www.tmtfinance.com/africa or email enquiries@tmtfinance.com