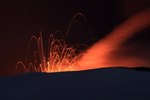 An Icelandair pilot has been publishing pictures of the Iceland volcano eruption on his own website. The recent set of volcano pictures taken by Mr. Petursson show both the first and second volcanic eruption at Eyjafjallajokull from the air and the surrounding area.
Amongst the pictures taken are aerial shots of the plume during a commercial flight to The Westman Islands, just 30 km away from the volcano before airspace was restricted. Petursson has published these impressive photos on his website, which can be found here.
The Iceland volcano is currently around 1/10 of the size it was during the first few days and the ash clouds surrounding the volcano appear to be slowly decreasing. Those mainly affected are farmers in the immediate area located south of the volcano crater.
The volcanic eruption has only affected a very small area of the country, the vast majority of the island remains completely unaffected and is still extremely safe to travel around. Iceland's Route 1 highway which runs near to the volcano has even been reopened because no immediate dangers are present.
Mr. Petursson's Iceland volcano pictures can be accessed at http://gallery.me.com/thorleifur#100082
Up-to-date volcano information can be found at http://www.icelandairgroup.com/volcano