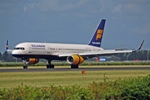 Icelandair has recently announced that scheduled flights from Glasgow will be arriving at Keflavik International Airport this afternoon, Monday 26th April, after closed last Friday due to disruptions caused by the Eyjafjallajokull volcano. Despite what many people think, the current situation in Iceland is very calm, with air traffic over Keflavik only being disrupted for a short period of time.
Normal service with Icelandair is due to resume this afternoon as scheduled flights from Glasgow are set to arrive at Iceland's transatlantic hub in Keflavik since the temporary switch to Akureyri in the North of Iceland.
Flights from Glasgow today at 18:00, 19:05 and 19:20 shall arrive at Keflavik, and departures to Glasgow will begin from 21:00. Icelandair has scheduled three flights tomorrow, Tuesday 26th April, to Glasgow and one to Orlando.
Passengers currently awaiting flights with Icelandair can find further information through a new website set-up by the Icelandair Group. This website holds all the essential information on current flight schedules, information about ash coverage, passenger safety and volcanic activity.
Regularly updated information on the situation, flight refunds, how to re-book flights and what to do next can also be found through the website.
Furthermore, the website organised by Icelandiar Group holds links to reliable sources of information from the Civil Protection Department, Icelandic Tourist Board, Volcanic Advisory from London and the Icelandic Met Office.
The aforementioned website can be found at www.icelandairgroup.com/volcano