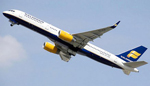 The Icelandair Group has recently launched a brand new web page giving stranded travellers up-to-date information on flights, safety and volcanic activity.
The website published by the Icelandair Group offers information regarding flights to and from Keflavik International Airport for those currently stranded and awaiting flights in Iceland, Europe and the United States.
The website also features extensive information on the ash distribution, volcanic activity, safety information, why it's happening and where it's happening.
Viewers can access videos and live feeds on volcanic activity, as well as interviews with travellers stranded in Reykjavik. Travellers can also find vital information on flight refunds, how current daily life is in Iceland, and what to do next.
Furthermore, the website works as a library of valid information with links from the Volcanic Advisory from London, Icelandic Met Office, Civil Protection Department and the Icelandic Tourist Board.
For further details on current flight information and volcanic activity visit http://www.icelandairgroup.is/volcano/