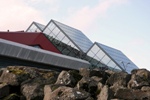 Iceland's international airport in Keflavik, just a 35 minute drive from the capital city Reykjavik, is currently making preparations for the extended flight schedule that will begin over the next few weeks in time for the summer.
Icelandic airline companies are extending their flight plans ready to accommodate all the holiday makers that will be travelling to and from Iceland, as well as on to further destinations across Europe and the USA. Transatlantic and European flights connect via Keflavik International Airport, allowing passengers the option to stopover in Iceland at no additional airfare.
This stopover opportunity allows travellers to explore the beautiful country and experience all that it has to offer. Iceland's capital city, Reykjavik, is a city where you'll feel safe to walk the streets. It is full of colorful houses, friendly people and a walkable city center, it's like being in a big village. However, this "village" has a multitude of cultural venues, gourmet restaurants, stores and is only a 15-minute cab ride from the downtown area to the Iceland countryside. Here you can explore the wild nature, geysers, waterfalls, geothermal hot springs, bird sanctuaries and even more.
For centuries Icelanders have relaxed in the soothing, natural hot geothermal springs found all over the country. To enjoy the full experience, come soak at the Blue Lagoon, Iceland's world-famous spa that combines the purity of our water with the natural curative properties of our volcanic landscape.
The waters surrounding Iceland and flowing through it are home to a range of whales and dolphins, while the hills and mountains are home to arctic fox and reindeer herds. Iceland is also home to the largest population of puffins in the world and devoted birdwatchers flock to our shores to see dozens of rare species up close.
Further details about summer flights via Keflavik International Aiport can be found at www.kefairport.is/English