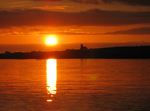 Port of Hafnarfjordur is a not only the perfect place in Iceland to dock a cruise ship but also to enjoy some unique cultural activities, especially for those of you lucky enough to be visiting the country in the wonderful summer months.
On your arrival at the scenic port of Hafnarfjordur, passengers of the visiting cruise ships are welcomed to partake in the numerous tours and activities in the surrounding area. The most renowned tours are to the popular Golden Circle, which includes a trip to the site of Iceland's first parliament, Thingvellir, the breathtaking waterfall of Gullfoss, otherwise known as the Golden Falls and the gushing fountains of Geysir.
The town of Hafnarfjordur also offers a vast selection of more conventional activities, such as swimming pools, local galleries, museums, a golf course and even horseback riding. In addition, in the month of June the town plays host to the annual Viking Festival where hordes of Norsemen from around the world partake in the celebrations.
Port of Hafnarfjordur is one of Iceland's biggest ports, and ensures an ice-free harbour all year round.
For further details regarding summer cruise ship ideas in Hafnarfjordur and Iceland visit www.portofhafnarfjordur.is/