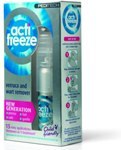 Leading global design and innovation company Seymourpowell won the OTC Marketing Award for 'Best New OTC Packaging Design' at the gala event on Thursday 4th March. The award was presented to Seymourpowell for its packaging design of PediTech ActiFreeze, a new generation wart and verruca remover product by Passion For Life Healthcare.
Seymourpowell's goal for ActiFreeze was to create a brand that would appeal to sufferers seeking a professional, effective, safe and gentle solution. The new ActiFreeze canister enables accurate dosage, effectively freezing the wart & verruca to the core, whilst at the same time isolating it from surrounding tissue.
Seymourpowell's winning design received high praise from the panel of judges who awarded it 58 points out of a maximum possible of 60. Other nominees in the same category included Pentagram and Rare Design. In another category, 'Most Innovative New OTC Product', PediTech ActiFreeze also came a close runner-up.
"We're delighted to have won this award for our work on ActiFreeze. The dynamism of the original concept remained true throughout, to the printed pack – this is also a tribute to how the Passion For Life Healthcare team allowed and supported our creative lead," expressed Jonathan Shaw, Director of Packaging at Seymourpowell.
The annual OTC Marketing Awards are carefully devised to highlight excellence in marketing communications or product innovation. These consist of 19 categories nearly all of which encompass grocery as well as pharmacy retail channels.
"We're delighted Seymourpowell has been recognised for their work on ActiFreeze. The design team created an identity that challenges the category norms, giving us great brand presence at point of purchase," commented Matt Navier, Brand Manager at Passion For Life Healthcare.
Seymourpowell developed an impactful brand mark highlighting the targeting benefits of the product. Focus was also given to the unique pre-assembled format by creating a structure to make the product visible, highlighting its benefits through the bold 'new generation' message.
For further information about Seymourpowell's innovative packaging designs visit www.seymourpowell.com
Contact:
Tim Duncan
PR Global, Seymourpowell
Email: tim.duncan@seymourpowell.com
Tel: +44 (0) 20 7386 2369