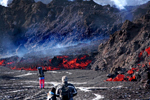 Volcano tours are fast becoming the most popular recreation in Iceland for 2010. This is due to the eruptions close to the Eyjafjallajokull glacier, where over 10 thousand people have already visited the eruption site.
The easy accessibility of the volcano means that you can get up close and personal with one of mother nature's most incredible spectacles. At the "tourist friendly" site you can experience the sounds, the smells and feel the ground vibrate from the sheer force of the volcano underneath your feet. You can even take home a piece of volcanic rock as a souvenir of your experience.
With this in mind, Icelandtotal.com offers various volcano tours and package deals for those interested. The online travel shop provides several single day tours and holiday packages to the Fimmvorduhals volcanic eruption.
Icelandtotal.com offers special package deals that incorporate three nights accommodation, and a Super Jeep tour to the eruption site. You can also take the self-drive option and stay at a hotel near the site of the volcano.
In addition to this, single day tours are available at the online shop. There you can choose from the Super Jeep tour, guided bus tour, or a Helicopter sightseeing tour over the area.
Further details regarding volcano tours and holidays in Iceland visit www.icelandtotal.com