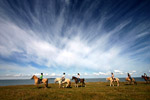 Thrill seekers wishing to see the recent volcanic eruption at the Eyjafjallajokull glacier, alongside other Iceland holidays in 2010, can through the excellent online travel agency Icelandtotal.com. The website offers a multitude of Iceland holiday ideas, such as self drive holidays, car rentals, vacation packages, flights, accommodation, day tours and activities.
Through Icelandtotal.com, you can choose between various holiday packages with different themes and ideas. The website can provide incredible adventure tours, such as snowmobile treks and horseback riding, through to relaxing trips to natural spas and sight-seeing tours. In addition, Icelandtotal.com offers cheap prices for customers purchasing package deals online through its website booking engine, resulting in ease-of-use and great value for money.
Icelandtotal.com also offers the complete Iceland Travel guide, with in-depth information regarding sites and popular attractions, including videos and photos from previous tours. The website gives you the perfect chance to arrange that special holiday in Iceland.
Operated by Iceland Travel, Icelandtotal.com is the biggest travel agency and tour operator in Iceland, and is part of the Icelandair Group.
To find out more about cheap Iceland holidays visit www.icelandtotal.com