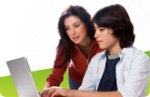 A report released earlier this week into parents' involvement in school work at home reveals numerous homework problems that leave parents frustrated and children confused. The comprehensive education report shows that twenty-two percent of parents admitted they frequently feel unable to support their child with their education at home with eighty-one percent of parents welcoming guidance on how to support their child's learning better.
The "I'm stuck – can you help me?" report commissioned by Becta, the government agency for technology in education, shows parents are keen to become more involved in their child's education but many are left looking for more guidance and advice on how best to support their children's learning outside of the classroom.
The report clearly indicates that parents' inability to help their children is having a profound emotional effect with nearly a third of parents acknowledging that they felt frustrated for not remembering things from their school days. In addition to this, nineteen percent felt embarrassed and shown up by their child after trying to help them with their homework.
The report shows that more than a third of parents expressed a desire to know exactly how the teacher was teaching the material, so they could replicate their methods at home. Becta encourages more schools to use technology effectively to help support parents so then they can support their child's learning at home through the Next Generation Learning campaign.
The Next Generation Learning campaign aims to use technology to create a more exciting, rewarding and successful experience for learners of all ages and abilities. This enables everyone to achieve their potential and achieve much more. For example, easily available and simple to use technologies such as school websites and learning platforms can help parents create homework solutions by providing them with information that allows them to keep up-to-date with their child's school and help their learning progress.
"Our learning platform provides links, materials and tutorials for the child and parent to work through together. There is no doubt that helping parents to support their children has had a significant impact upon learning outcomes, as well as developing even stronger links between the school, parent and child," commented Headmaster Jeff Smith of Anson Primary School in Brent.
Subjects such as Maths and Science have been identified as the most difficult for parents, according to thirty-seven percent and twenty-seven percent of parents respectively. However, Anson Primary School also offers a solution to this by providing training sessions for parents on certain subjects so that they can be informed of the ways that they teach different processes. Each parent is then completely able to support their child at home.
Becta's education report is available to download and read in full along with more information about Extended Learning at www.nextgenerationlearning.org.uk/extendinglearning