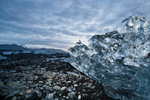 Are you looking for unique business incentives to inspire and motivate your employees? Wanting to experience once in a lifetime adventure? Well, with Vatnajokull Travel you can combine the two at Iceland's largest glacier.
Vatnajokull Travel provides businesses of all sizes incredible staff excursions, annual company celebrations and incentive trips across the beautiful Vatnajokull glacial landscape.
The Vatnajokull glacier national park is one of Iceland's most popular natural wonders, boasting unspoiled icecaps, the peaceful Jokulsarlon lagoon and the ice-covered volcano of Oraefajokull. The Vatnajokull glacier is also known as the largest glacier in Europe, with an average thickness of 400m, and a maximum thickness of 1,000m.
Vatnajokull National Park has also been used as the backdrop for box office smash hits 'Lara Croft: Tomb Raider', 'Batman Begins' and 'Flags of Our Fathers', due to its beautiful, yet alien landscape.
Vatnajokull Travel prides itself in providing your business with a successful and unforgettable stay.
To find out more regarding business incentives with Vatnajokull, and various exciting adventure tours visit www.vatnajokull.is/english/