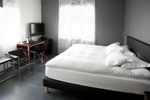 Iceland's leading hotel chain, CenterHotels, provides an ideal break for sight-seeing opportunities and relaxing activities in Iceland's capital city, Reykjavik. The city is one of the youngest and most vibrant cities in Northern Europe with culture and colour all year round – perfect for that special weekend getaway.
The ideally located luxury hotels are all conveniently close to the main shopping street, Laugavegur. The downtown area accommodates numerous shops, restaurants, cafes, bars and world-renowned nightlife all easily accessible from the hotels' locations.
The Panorama Restaurant situated in Hotel Arnahvoll, one of CenterHotel's five hotels, offers mouth-watering Scandinavian cuisine, whilst overlooking the breathtaking views of the beautiful mountain range Esja. After a fine dining experience, Hotel Arnahvoll also offers you the chance to relax and get re-energised in the comfort of the hotel's private jacuzzi, Turkish bath or wonderful Finnish sauna.
For your convenience, all of the hotel rooms and suites are equipped with a private bathroom, flat screen TV, telephone, minibar and a free high-speed wireless Internet connection. As well as this, the reception is open 24 hours a day, and a limited number of private parking spots are also available for anyone wishing to rent a car.
The Hotel Arnahvoll city break getaway is just one of four offers across all of CenterHotels' great hotels in downtown Reykjavik.
Further information about city break packages and hotel room reservations can be found at www.centerhotels.com