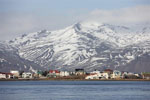 Have you ever wanted to experience incredible outdoor adventure tours across the Iceland Glacier National Park Vatnajokull? Well, Vatnajokull Travel offers just that with its 'Blue Ice and Black Sand' during the summer months.
The aptly named 'Blue Ice and Black Sand' adventure tour kicks off at Hofn, a small fishing village in South East Iceland. This tiny community only houses around 1800 inhabitants, and has its claim to fame as being the lobster capital of Iceland. Here travellers get to experience, by boat, the mythical glacier lagoon Jokulsarlon up close.
Vatnajokull Travel then takes you on an exciting ATV tour of the beach Sudurfjorur, full of black sand and incredible fresh Icelandic air. This is a once in a lifetime trip to experience this unique landscape in an alternative manner.
Skidoo rides and Super Jeep glacier treks are amongst other exhilarating tours offered by Vatnajokull Travel throughout the summer months.
To find out more about Vatnajokull Travel guided adventure tours visit www.vatnajokull.is/english/