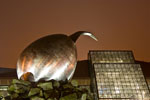 According to a recent Airport Service Quality survey, conducted by the Airports Council International, Keflavik International Airport has been voted the best airport in Europe. This detailed survey, is published quarterly, as well as annually, with 140 airports taking part worldwide, 48 of which are in Europe. Keflavik International Airport came out on top in the poll, in which travellers answered questions on airport service and quality.
Iceland's only international airport scored greatly in passenger satisfaction, due to its welcoming atmosphere, simplicity of connecting flights and friendly staff.
"A prerequisite to achieve such success is listening to the customer and striving to meet their needs," states Bjorn Oli Hauksson, CEO of Keflavik International Airport.
Passengers also explained how thankful they were with the airports facilities, including banking services, grocery stores and restaurants in the terminal. As well as commending the baggage delivery and simple access to baggage strollers.
Participants in the ASQ survey also explained their appreciation towards the airport's duty free shopping zone. The vast shopping area holds eighteen stores, selling numerous products such as confectionary items, cosmetics, clothing and electrical goods. Furthermore, due to the favourable rate of currency exchange, Iceland is becoming ever cheaper for travellers looking for a bargain.
To find out more regarding the Airport Service Quality survey and the airport's facilities visit www.kefairport.is/English