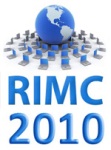 This year's Reykjavik Internet Marketing Conference and Expo (RIMC) has been scheduled for 12th March and will be offering a 20 per cent discount to Econsultancy members worldwide. The annual event has already gathered a great line-up of speakers from internationally renowned companies such as Ericsson, Microsoft, Econsultancy and many more. The conference will be exploring the possibilities created by employing structured promotional approaches and focused advertising campaigns through the use of Internet and Mobile Marketing and Advertising.
RIMC 2010 is ideal experience and opportunity for anyone who works in, or is interested in, business on the Internet. The conference will appeal to marketing and advertising people, web editors, sales and marketing managers as well as directors of small and large businesses.
This year's event will be hosting two keynote speakers (possibly three but that has not been confirmed*) on Mobile marketing and Technology: Allen McCaskill, Director of Media Solutions at Ericsson, the Swedish phone giant and Ashley Friedlein CEO, Econsultancy as part of the marketing mix for Internet Marketing.
McCaskill will talk about the latest technology in mobile marketing and communications and the future of the mobile phone. Econsultancy's Friedlein will talk about the most up-to-date issues in Internet Marketing and what the next logical steps will be for marketers worldwide.
Other speakers attending the event include Allan Dick, Jr. the Chief Marketing Officer of Vintage Tub and Bath and a Senior Plumbing Evangelist, Jenny Leahy, Manager, Community & Web Publishing for Microsoft Advertising, Eugene Ehrbar, CEO of Anomaly and Gudmundur Arnar Gudmundsson, manager marketing communication at Icelandair and more.
Members of Econsultancy and the Icelandic Marketing Association get a 20 per cent discount off the standard booking charge. However, for everyone else booking before the 8th of February, the price to attend the conference is 34.900 ISK, after that 49.900 ISK.
For more information and booking a place at RIMC 2010 log on to www.rimc.is/en
*Third keynote will be from a major social media site
PR Contact
Russell Harmon
eNewsPR
russell@enewswire.co.uk
tel: +354 540 9500