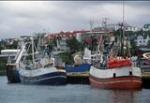 The sheltered fishing Port of Hafnarfjordur, is built in a lava field located in the south-west of Iceland, just a 10 minute drive from the capital city Reykjavik. With opportunities for whale watching and horse-riding and the ability to accommodate three berth cruise ships, Hafnarfjordur is expecting a massive increase in business for 2010.
Last year, the Port of Hafnarfjordur had four calls and about 1,600 passengers. 'Next year we are expecting 11 calls and around 7,000 passengers,' Mar Sveinbjornsson, director, Port of Hafnarfjordur, informed Seatrade Insider. With the town celebrating its 100th anniversary this year the Port of Hafnarfjordur's goal is to reach 15 plus cruise calls by 2015 with around 10 to 15,000 passengers, Sveinbjornsson added.
As well as the all year round activities for all those cruise ships calling in June, passengers can experience the colourful Viking festival where Viking enthusiasts from all around the world gather in the town to enjoy the numerous events.
Sveinbjorsson informs the three most popular tours are the Golden Circle with Thingvellir, Geysir and Gullfoss as main attractions; the geothermal area of Krysuvik located just 20 mins away, the world renowned Blue Lagoon Spa and a city tour including Bessastadir where the Icelandic President resides in Reykjavik.
For further details log on to the Port of Hafnarfjordur website and a Cruise Hafnarfjordur video can be viewed here