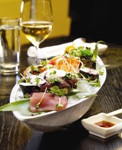 Iceland is known for it's fresh fish and seafood; historically the country's economy has revolved around the fish industry. Traditionally, Icelandic fish is cooked, eaten fresh, or preserved by salting, smoking and fermenting. However, sushi cooking and dining is becoming more and more popular across the globe, Iceland being no exception.
Leading Icelandic sushi restaurant, Domo, has been 'cooking up a storm' amongst both the locals and food critics since it opened it's doors in 2006. The culinary website foodandwine.com placed Domo within their prestige 'Go List' as one of the top European restaurants to dine during 2008, because of its quality and comfortable atmosphere.
Domo, labeled as the "kitchen without boundaries", is one of Reykjavik's best fresh fish restaurants serving a variety of pure Icelandic sushi, depending on the catch of the day. Domo also offers its renowned Asian/French inspired a la carte menu for those seeking an exotic yet classic dish, as well as a great selection of wines, sake and an extensive whiskey collection.
To view Domo's mouth-watering fresh fish and sushi menu visit www.domo.is