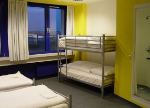 HostelBookers biedt klanten het ultieme kerstcadeau aan – goedkope kerstvakanties in de meest betoverende steden van Europa.
Londen, Berlijn en Praag zijn deze winter allemaal perfecte steden voor een voordelige vakantie. Deze steden hebben een aantal van de beste kerstmarkten van Europa, waar reizigers in stijl kunnen winkelen en de authentieke sfeer van een traditionele feestdag kunnen proeven.
De markten in Berlijn en Praag hebben honderden stalletjes waar traditionele voorwerpen en heerlijke lekkernijen worden verkocht, zoals warme bisschopswijn en geroosterde kastanjes. De Londense markten, Winter Wonderland-ijsbaan in Hyde Park en beroemde kerstverlichting in Oxford Street brengen u ook helemaal in feeststemming.
Weggaan met de kerst lijkt misschien duur, maar jeugdherbergen zijn een betaalbaar alternatief voor een kerstvakantie. En om dit jaar écht goed nieuws te brengen, is HostelBookers een samenwerking aangegaan met drie van de beste jeugdherbergen in elke stad om gasten een aantal geweldige kerstcadeaus te kunnen aanbieden.
Sir Toby's Hostel in Praag biedt speciale kersttarieven voor alle boekingen die via de website van HostelBookers worden gemaakt. Deze jeugdherberg is een van de allerbeste in Praag – op kerstavond verzorgt het personeel een buffet met alles erop en eraan.
Vier kerst in de Londense jeugdherberg The Journey's Hostel Kings Cross. Bedden die voor de periode 20 t/m 27 december worden geboekt, kosten slechts £10 per persoon, inclusief een overvloed aan kerstcadeaus. Gasten krijgen gratis toegang tot de beste plaatselijke clubs, coupons voor gratis drankjes in een lokale pub, en 30% korting op eten in een cool Londens restaurant. Er is zelfs een kerstfeest met live gezongen kerstliedjes.
The Generator Hostel in Berlijn heeft deze december een aantal echte traktaties in petto voor gasten, namelijk een gratis traditioneel kerstdiner, welkomstdrankje en kerstfeest op de 24ste. The Generator biedt ook een VIP-kerstaanbieding via HostelBookers, met drie nachten in een gedeelde kamer inclusief diner, voor €49.