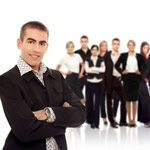 At the House of Commons, Westminster, 25 November 2009, the International Association of Book-Keepers (IAB) announced the winners of its latest Top Centre Awards, which recognise the top IAB centres. Westminster Adult Education Service (WAES) was awarded the top centre prize for Level 1 Certificate in Computerised Book-keeping.
The Awards acknowledge the ultimate achievement of particular IAB Accredited Centres – enabling a greater proportion of their students to pass an IAB examination than any other Centre.  These Awards celebrate their achievements in the June 2009 IAB examination session.
Barbara Holm, Head of Service at WAES said; "This is a remarkable achievement for WAES and our learners, we are delighted to have won this award. It is a real testament to all the hard work, time and effort that is put in to ensure our learners receive the best possible learning opportunities and achieve the best possible results."
Held in the prestigious surroundings of the House of Commons, the awards were conferred by the Honorary President of the IAB, Fabian Hamilton MP.
Malcolm Trotter, Chief Executive of the IAB, congratulated all of the Top Centres for their achievements, saying;"It is always good for centres to achieve high pass rates. But to achieve the highest out of all the IAB centres, is truly exceptional performance". He added, "This outstanding success is not only of great benefit to their students but to be the Top Centre is a real accolade for the staff and the institution.
Enquiries:  Rubina Begum  020 7641 7848
http://www.waes.ac.uk/