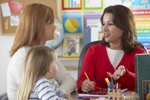 According to a comprehensive study into parent teacher relationships more than eleven percent said they feel dismissed as an 'overly demanding' parent and another eleven percent say they are made to feel that they are imposing on the teacher's time when they try to make contact. However, thirty-seven percent of teachers would welcome practical advice given to parents on how they can communicate more effectively to benefit both the school and their children.
The report, commissioned by Becta, reveals the majority of school staff (54 percent) say that the relationship they have with pupils' parents is mixed, varying greatly from parent to parent. A third (34 percent) of teachers admit they often come across parents who 'try and influence decisions' about their child and thirty-six percent of teachers say they often come across 'pushy' parents who need 'constant reassurance'. They also admit that half (50 percent) of the parents that they have the most contact with are those who make themselves available to speak to the teacher at the end of the school day.
Almost half (48 percent) of teachers believe that whilst parents are a great source of support, they don't always know the best ways to help. Over a third (37 percent) of teachers would like to advice parents on how they can communicate more effectively and over a third (39 percent) said it would be helpful to show parents who are already contacting them how they might achieve this in a more beneficial way to both schools and parents.
The vast majority (89 percent) of parents say technology helps them get involved in their child's education, or it could play a more powerful role if they better understood how to use it. Staff are also keen for schools to provide tools which can help them have more informed and effective discussions with parents.
This and the survey's other findings highlight a need for better communication channels between parents and schools via the use of technology. This will then generate open and honest discussions which help a child progress, whilst also managing the impact on the teacher's workload to ensure the most efficient use of time.
Becta is the government agency aiming to advertise and implement the productive and innovative use of technology throughout the teaching and learning process. The Schools & Parents: A New Partnership report is part of the 'Next Generation Learning' campaign, which encourages parents to contact their child's school in order to establish how and if technology is already being used, and how it can improve communications between them and their child's school in future.
To view the Schools & Parents: A New Partnership Becta report in full and for more details about Becta and the 'Next Generation Learning' campaign log on to www.nextgenerationlearning.org.uk