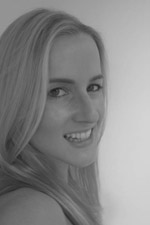 Launching just in time for New Year's resolutions, The Dating Detox is the perfect antidote to romance overkill.
The plot:  after being dumped for the sixth time in a row, romantically-challenged heroine Sass declares a dating sabbatical. No men, no break-ups, no problem. The result: instant happiness. A love-free life is stress-free, too. Celibacy rocks. No wonder nuns are always singing.
On the flip side, the dating ban is like catnip to every man in London. She's never had so much attention in her life. Should she risk her newly-found stability in singledom for what could be the real deal? Or will she choose the rules, rather than risk having her heart broken again?
For the post-Bridget Jones, post-Carrie Bradshaw, post-credit crunch generation of singles, life isn't a beautiful, a bitch or a beach. It's a party.
About the author:
Gemma moved to London at the age of 22. She started working as an advertising copywriter, and applied herself more wholeheartedly to having a good time. Eight years later she decided to distil some of her experiences into The Dating Detox: the anti-romantic comedy for women with confidence, wit and style but absolutely no clue whatsoever how to know the real thing when they see it. (Love, that is.)
www.harpercollins.co.uk/Authors/8643/gemma-burgess