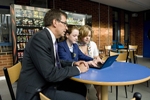 Fifty-nine percent of parents admit to being in contact with their child's school just once a term or less according to a report commissioned by Becta into parent teacher relationships. It has been proved in numerous studies that parental involvement is key to a child's educational success, but it seems that many parents aren't aware of just how important their role is.
Of the parents who admitted they rarely made contact with their child's school, more than one in five (22 percent) said they did not see how being in regular contact has any benefit for their child. The majority (67 percent) of school staff questioned said that these parents simply do not realise how important their support is to their children's development.
Forty-two percent of teaching staff say 'invisible' parents lack the confidence to approach them to discuss their child, whilst many parents feel positive following conversations with their child's teacher. A significant proportion reveal they think they are dismissed by the teacher as a 'worrier' (11 percent) or that they're 'imposing on the teacher's time' (11 percent) whenever they get in touch. One in five (19 percent) parents are worried about bothering teachers and more than a fifth (22 percent) say they don't want to add to the teacher's workload, resulting in many taking a back seat in their child's education.
Many school staff are aware of this with forty-two percent saying they felt these parents lack the confidence to approach them to discuss their children. Forty-three percent even admit that parents might find them 'difficult to approach sometimes'.
Three out of five (60 percent) teachers believe the reason some parents are not in regular contact with them is because they think their job stops at the school gates. This is reflected by some parents who say they rarely get in touch with their child's school because they believe teachers should be in charge of their child's education.
It appears school staff think time is the key factor in some parents' disengagement – the majority (54 percent) said they thought parents were just 'too busy' to engage with their child's school. However, just eight percent of parents say the reason they don't get in touch regularly is because they 'struggle to find time', suggesting that there are other factors behind their lack of engagement.
Becta is the government agency aiming to promote and achieve the productive and innovative use of technology throughout the teaching and learning process. The Schools & Parents: A New Partnership report is part of the 'Next Generation Learning' campaign, which encourages parents to contact their child's school in order to establish how and if technology is already being used, and how it can improve communications between them and their child's school in future.
Becta's Schools & Parents: A New Partnership report and details about the 'Next Generation Learning' campaign can be found out www.nextgenerationlearning.org.uk
For more information, please contact:
Sophie Jackson 0207 025 6412 / Sophie.jackson@redconsultancy.com
Catherine Sharrott 0207 025 6589 / Catherine.Sharrott@redconsultancy.com
Kate Cox 02476 797146 / Kate.Cox@becta.org.uk