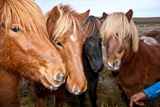 The Icelandic horse is a unique breed which can trace its ancestry directly back to the Viking settlement. Due to its many centuries of isolation, the breed has developed strong characteristics and distinctive features that make Icelandic horses particularly prized among horse lovers the world over.
Never call an Icelandic horse a pony! They may be on the small side, but Icelandic horses are incredibly strong, sure footed and intelligent. They also have a unique appearance, with their thick coats and long manes which help keep them warm in the harsh winter. They are one of very few thoroughbred horse breeds to come in many different colours.
Urvalshestar is one of the most famous Icelandic horse breeding businesses – famous both for the quality of their breeding stock and the professionalism and dedication of their staff.
Magnus and Svanhildur run Urvalshestar and live at Holtsmuli farm about an hour outside Reykjavik with their two daughters. Both are horse experts and horse enthusiasts in equal measure and the farm is usually staffed by an additional three to four working students whose love of the Icelandic horse draws them from all over the world.
Urvalshestar is one of Iceland's biggest exporters of Icelandic horses. Icelandic horse lovers all over the world trust Urvalshestar to provide beautiful and talented horses with co-operative temperaments and, often, with beautiful and unusual colours.
Urvalshestar's Holtsmuli Farm is more than just a breeding centre though: it is also a top class training school and stables. Few horse trainers come with a finer pedigree than Magnus Larusson and Svanhildur Hall.
Between them they have been both student and teacher in equine studies at university level, worked abroad in training and teaching, are multi prize-winning breeders and are sought-after experts and speakers. The list goes on, and on.
Anybody looking to buy an Icelandic horse will probably come across the Urvalshestar name before long. That's because this family run business has a world class reputation for animal welfare, top class facilities, an enviable breeding stock and the best trainers around.
For more information on Icelandic horses for sale, the Urvalshestar farm or on Icelandic horses generally, visit http://urvalshestar.is/English