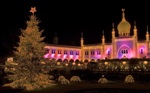 The Christmas in Tivoli event lights up the Tivoli Gardens every year with miles upon miles of fairy lights that stretch all around the park. Over one thousand eight hundred light chains weave throughout the willows that are situated around The Tivoli Lake, a further five thousand meters branch around the magnificent Christmas Tree that towers in the centre of the garden, captivating the crowds that flock there every year to experience all the amazing festivities that the Danish amusement park has to offer.
In the magical Tivoli Gardens from November through December every year the Christmas in Tivoli festivities take place, accomodating over 70 market stands offering a large selection of decorations, presents, delicacies, and beverages all from Denmark. Over the years the event has earned itself as a firm family favourite with the locals and a must attend event in the heart of the capital city.
Santa Claus awaits in his sleigh on Tivoli's open air stage with an abundant amount of presents ready for all the children to come and have their picture taken with him. During Christmas in Tivoli, Pixieville offers Tivoli-guests a first-hand insight into the lives of those small Christmas pests. All of Tivoli's rides are open as usual, and in the Glass Hall and the Concert Hall there is family entertainment appropriate for every generation.
The Copenhagen amusement park villages are always full of energy with numerous stalls offering various Danish delicacies. As well as this, Tivoli hosts 38 different restaurants that cater for every taste from modern cuisine to traditional Danish food and fast food but in addition offer traditional Christmas delicacies in the spirit of the event.
The Tivoli gardens are located in the centre of Copenhagen so finding accommodation is never an issue as the city hosts numerous luxury hotels with superb facilities, making visitors feel as welcome and comfortable as possible. Many of the hotels are very accommodating with friendly staff from all over the world that are always welcoming and happy to assist with any queries. Most of the rooms are equipped with air conditioning, a mini bar, and some hotels even offer a 24-hour convenience store for ease and availability despite being within easy walking distance of all the services the inner city has to offer.
Furthur information on accomodation in Copenhagen and for booking reservations log on to www.hotelsincopenhagen.dk