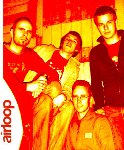 The Icelandic band Airloop was founded in 2006 by four close friends, Fjalar – the trombone player, Gunnar Thor – who is in charge of beats and more, Svenni – Keyboards and guitars, and Sævar – the trumpet.
Since their first gig back in 2006 at the Iceland Airwaves music festival the band have been taking a long break, writing new material ready to release their first full length CD in early 2010. However, the band will be making an appearance at Iceland Airwaves 2009, which is taking place this week in Iceland's capital city, Reykjavik.
Airloop's music has been described as a fusion of jazz and ambient dance music with notable influences from artists such as Saint Germain, RJD2, Miles Davis, Zero 7, and Eric Serra. The band have also commented on their strong influence from the entire Drum n' Bass scene as a whole, and all good music in general.
Airloop will be playing at Jacobsen (groundfloor), which is situated on Austurstraeti in downtown Reykjavik on Thursday 15th October at 20:00.
For more information on Airloop and to listen to their latest material visit www.myspace.com/airloop