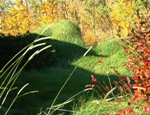 Is autumn the most beautiful season? Or does its promise of looming winter make it the most depressing? Visit Iceland this autumn, and you'll soon see that its unrivalled beauty can convert even the harshest cynic. And besides, winter's not that bad anyway, right?!
It is the time of year when nature is at her most colourful and when a bit of sensible clothing means you can get out and about without getting too cold and without the throngs of summer tourists. In autumn the red and gold leaves are interspersed with mushrooms and an abundance of tasty berries used by locals to sweeten up daily life for centuries.
Though tourism in Iceland has been non-stop over recent years, it is still true that there are fewer tourists outside the summer high season, which means it will generally cost less to witness nature's slow descent into peaceful hibernation.
September in Iceland enjoys a reputation for good weather and sheep. Rain and wind are never out of the question; but the word on the street is that September is often stiller and sunnier than August, despite the resurgent chill in the air – a clear portent of winter's stirring desire to rule again.
It is that winter threat which also sends the farmers out into the highlands to collect their sheep and horses for the winter. The event is a huge undertaking which turns into a big community celebration throughout the countryside – and tourists are more than welcome to come and lend a hand too!
The old Icelandic calendar only had two seasons: the warm, light one and the cold, dark one. Consequently, Iceland's first official day of winter is on Saturday 24th October this year, despite the fact that not every leaf will yet have fallen and that the snow will (probably) not yet have made an appearance. Conversely, Icelanders gleefully celebrate the first day of summer in April; at around the time spring is making its first feeble, faltering attempts to breathe life back into the world.
Just before winter makes its official entrance, the Iceland Airwaves music festival steps in to give summer the raucous send off it so richly deserves from 14-18 October.
Iceland Airwaves is the international music press's favourite festival. Its mix of big international and local talent and the 'next big things' makes Airwaves a great place to find something new and to rock out with next year's chart topping acts before they loom headlong into the world's conscience.
So, for something a little different this autumn, a holiday in Iceland could be just the surprise you've been looking for. More details are available at www.visiticeland.com
Photo: Flickr.com/olafur