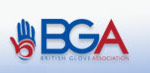 A London Metropolitan University student has scooped first prize in the British Glove Association's Glove Design Competition. Eva Pospisilova is studying the accredited Foundation Degree in Fashion and Textiles at City and Islington College.
The London Met student won her prize in the 'Design a glove for a pop star, past or present' competition. Eva designed her glove for Madonna and incorporated a diamond motif on a printed fabric sleeve. Her prize will be GBP 300, three days' work experience at the Textile Conservation Department at the Victoria and Albert Museum in London and an invitation to an awards ceremony at The Drapers Hall.
The competition is supported by the Worshipful Company of Glovers, and is 19 years old. The competition aims to encourage students to create practical and original glove designs. The judges reward glove designs with a commercial aspect in regard of ease of manufacture and so called 'self-ability'.
'The Foundation Degree in Fashion and Textiles has really developed my design and creativity skills," Eva said, commenting on her win. "It has given me the confidence to submit my glove design to this competition. I am really looking forward to the work experience opportunity at the V&A Museum where I can gain further experience and utilise the skills I have already developed on my course."
The London Metropolitan University provides a wide variety of Foundation Degree courses in close partnership with City and Islington College. The courses are carefully designed to be work-related and flexible, with extensive hands-on work related learning. Students use the courses to hone their practical skills and knowledge to advance their careers or to progress on to full Honours Degrees.