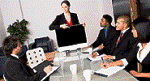 With cell phones used by over 3.1 billion people globally, 89% of major brands plan to market via mobile phones and in 2009 whilst 40% of major brands have already deployed text messaging campaigns.
In response to the emergence of mobile as a strategic marketing channel, Knexus Digital has expanded its "Mobile programme of content", driving learning and insights for marketers on topics such as the importance of mobile strategy, how the iPhone has transformed mobile usage, mobile targeting and winning mobile web advertising opportunities for innovative brands! Knexus Digital's content features the newest brand cases studies, latest insights and market intelligence, plus great ideas for mobile success, all from leading industry experts Dusan Hamlin, Russell Buckley and Jide Sobo. The content is available On Demand via video, downloadable podcasts and PDFs.
To access the latest "Mobile" learning and insights from Knexus Digital, please email brook.minto@knexusgroup.com
Alternatively, if you'd like to learn how Knexus Digital maximises marketing team performance for a digital marketing success, request an online demo (www.knexusgroup.com/request_demo) or contact +44 (0) 845 838 5316.
-ends-
About Knexus Digital
Knexus Digital provides innovative online tools and market leading insights to maximise marketing teams' execution capabilities for digital marketing success.
In essence, Knexus Digital helps marketing teams acquire new skills and insights to adapt to a fast-changing marketplace. In the face of global competition and shrinking marketing budgets, we provide digital marketing solutions in quick, easy and cost-effective ways.
Knexus Media Inquiries
Sherlyn Lee
Marketing Manager, Knexus Ltd
t. +44 (0) 845 838 5316
e.sherlyn.lee@knexusgroup.com