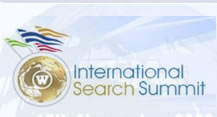 Search experts from around the world will be coming together in London on 19 November 2009 to discuss the latest developments in internet marketing. The International Search Summit will be held in the British Library in London. This summit is the fourth UK based International Search Summit to take place. There is even a discount price for a limited time.
The price will be only GBP 250 until 31 August. The full price is GBP 495, which means the discounted price is at 50% until 31 August to attend this very informative internet marketing conference.
Some of the speakers will include Shari Thurow from Omni Marketing Interactive, Bill Hunt from SEMPO, Sean Golliher from SEMJ.org, Kristjan Mar Hauksson from Nordic eMarketing, and many more. Speakers will touch on topics such as search engine optimization, pay per click advertising, social media, and other topics related to web marketing.
This International Search Summit has proven to be very effective in the past. Just view some testimonials that past attendees have given.
"The conference was very well organised, the presentations were varied and very interactive. I liked the fact that we were able to hear from some search engine providers, some clients and Webcertain team. It gave a good overall vision on the latest trends in search.
As a big international brand it was very good to have an international perspective on the subject and I would definitely recommend this conference." Natasha Storey, Direct Sales Manager, Air France KLM
"It's the first event I've been to on search marketing that has had a truly international approach. It turned out to be a thoroughly fascinating day. The presentations were well delivered, thought provoking and engaging, and I found it extremely useful to be able to mingle with the speakers, WebCertain staff and other attendees during the day, to ask follow up questions and share experiences." Sam Cowen, Senior Marketing Manager EMEA, eFinancialCareers.com
So don't miss your chance to catch the early bird discount and reserve your place in a great informative SEO summit in London this November!