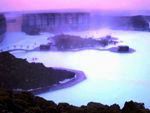 Asbru has found a new partner in investment in regards to geothermal research which can help improve and develop green energy research. The Canadian geothermal company, Magma Energy Corporation has announced that they will invest in the Asbru partner companies of HS Orka and Geysir Green Energy based in Iceland.
Asbru is the new name of the former NATO military base next to the airport in Keflavik. After the NATO evacuation in 2006, the base was re-designed as a community of students and businesses. Asbru offers new aviation and clean energy related academic programs at Keilir University. Keilir is also one of the largest campuses in Iceland. Asbru also has other projects such as a health village, a green energy research center and Iceland's first international data center.
The Canadian geothermal company, Magma Energy, is involved with geothermal operations and projects in North American nations as well as in South America.  Magma also owns a geothermal power plant in the US state of Nevada.
Geysir Green Energy, a partner of Asbru in Iceland, made an agreement with Magma Energy Corporation which will take over 10.8% of the geothermal power company HS Orka from the company Geysir. This will help boost HS Orka's green energy development.
Geysir's main focus is within Iceland and to optimize geothermal research within Iceland. Geysir, however, also focuses on the geothermal industries within China, the United States, Germany, and the Philippines and strengthens geothermal research in other countries when the opportunity arises. Asbru's partner company Geysir also created a brand new 9.3 MW geothermal binary power plant located in El Salvador, which was the first ever geothermal power plant completely designed and built abroad by an Icelandic company.
This new partnership not only spawns international interest but also creates a better future in regards to the environment and the human energy resource needs. Geothermal energy helps the environment and creates a cleaner form of energy usage. This new partnership with Asbru shows a bright future for the development or new energy sources and geothermal research.