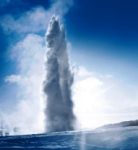 Tourism to Iceland is booming and visitors find themselves with more spending power than ever due to the current exchange rates, strongly favouring those on holiday in Iceland. As a result, a whole new range of exciting activities are now practical options for most Iceland visitors.
People on Iceland vacations are discovering all sorts of new options, including super jeep safari tours from High North – the most adventurous and flexible provider of tours and daytrips in Iceland.
High North's experienced team of Iceland tour guides know all the best places to go, and tailor each and every trip according to weather, season and the customer's personal wishes, meaning no two outings are ever the same.
There are several pre-designed tours of Iceland available with High North, as well as the option to design a trip from scratch.
The Golden Circle tour is the most popular in Iceland and the famous Thingvellir National Park, Geysir hot springs and Gullfoss waterfall are easily accessible and a very interesting day out. But High North turns the trip into something altogether more unforgettable with the simple addition of a stop on the top of a glacier. High North can take you almost anywhere with its unshakable Icelandic super jeeps and experienced adventure guides.
The ultimate Iceland tour is a tour of Iceland High North has cleverly named 'Ultimate Iceland'. You know, just in the name of honest, simple product description. You might say it does exactly what it says on the tin.
The Ultimate Iceland Adventure takes you on a trip to Iceland's famous historical and geological site of Thingvellir, through the Kaldidalur rift valley, up on Langjokull glacier, across lava fields and to caves, waterfalls and hot springs.
If that's not enough, you can also just as easily organise your own trip. A week's fly fishing in the Highlands, 24 hours to see as many volcanoes as possible, or an introduction to the country's most beautiful road bridges – the options are only limited by imagination.
More information on the ultimate Iceland tour company is available at www.highnorth.is