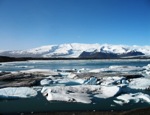 Holidays in Iceland really demand at least one trip out into the wild and otherworldly Icelandic countryside; and with the current low exchange rate of the Icelandic krona, more people than ever are able to take unforgettable personalised Iceland tours from High North.
High North is an Icelandic tour company offering unique trips in super jeeps, complete with friendly, experienced guides who can organise almost any sort of tour for almost sort of group.
Allowing High North to inspire your Iceland vacation guarantees you a completely unique experience at a very reasonable price. No two tours are ever the same and a coach tour can never give a proper taste of rugged Iceland. For a real Iceland adventure you need to take a thrilling ride in a super jeep!
The company has a range of pre-prepared package tours on offer, showing off South Iceland's most famous sights – with a unique twist, of course. For example, the eternally popular Golden Circle tour includes off-roading to the top of a glacier and optional snowmobiling – something no coach tour could ever dare do! Furthermore, you are encouraged to tailor even the package trips to your personal taste and desires.
The Ultimate Iceland Tour is a real high point for any Iceland holiday, taking in many of the country's unique features: towering waterfalls, lava caves, a glacier, off road driving in the highlands, a truly immense hot spring and the Mid-Atlantic Ridge running through Iceland's most famous and popular national park.
High North is also happy to sort out tailor made Iceland tours and the options are limited only by the visitor's imagination, and certainly not by the abilities of the off-road vehicles or their experienced drivers.
If a weeklong fly fishing excursion on the country's remotest and best fishing rivers floats your boat, High North can arrange it. If you want to trace the footsteps of the Viking saga heroes, just ask High North. In fact High North could probably even arrange a tour of Iceland's most fascinating garden sheds if you really wanted…
For more details accompanied by splendid photography, visit the website at www.highnorth.is