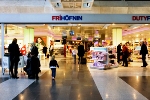 Natural splendour, culture, exotic activities and great food is the preferred choice of modern international travellers. Iceland offers all this plus shopping at really low prices with a fabulous exchange rate this season.
The national gateway, Keflavik International Airport, tops your experience with a variety of tax free shopping opportunities for the latest fashion brands, luxury foods, design ware, electronics, souvenirs, outdoor clothing and jewellery at extremely convenient prices.
If that's not enough, all departing passengers have a chance to win a return holiday in Iceland including travel, accommodation and valuable gifts from airport shops in the Airport's summer game until September 18th.
Keflavik International Airport is an important mid-Atlantic hub airport with excellent facilities geared up to serve the busy transatlantic and polar routes – as well as cargo and passenger services to and from Iceland itself.
The airport is consistently ranked among the best in Europe by ACI surveys. The ACI (Airports Council International) surveys passenger views on over 30 aspects of airport service and Keflavik is currently ranked Europe's best in several crucial fields, and third overall.
Keflavik International Airport is the most convenient for quick flight connections in Europe; it is Europe's cleanest and also rated as the most comfortable airport environment.
More details on all of Keflavik International's services are available at www.kefairport.com