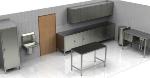 The leading Stainless Steel Hygiene Equipment manufacturer Teknomek has appointed Jamie Walker to strengthen its National Sales Team. Jamie is an important part of Teknomek's strategy to bolster its important customers during harsh economic times.
Jamie Walker joins Teknomek from Musset Engineering, where he was Business Development Engineer. He brings with him a combination of commercial focus and engineering skills and will concentrate on maintaining and developing key business relationships with Teknomek's National Accounts. Tom Worth, MD, commented: "Jamie is an important part of our strategy on adding value to our most important customers. In these difficult times, large businesses are looking to reduce the total cost of ownership across their entire estate of stainless steel hygiene equipment. Teknomek is able to deliver this by combining market leading quality with value for money, through a keen focus on customer needs. Jamie will help to reinforce this approach."
Teknomek Industries Ltd. was founded in 1987 to service the stainless steel furniture and equipment needs of the food, pharmaceutical, healthcare, medical and scientific research, veterinary and other sterile industries where hygiene standards are the highest priority.
Teknomek's focus has always been to put the needs of customers first by providing high quality and cost-effective stainless steel solutions to their hygiene requirements. The company's focus on Customer needs has led it to develop a state-of-the-art manufacturing and design facility in the UK that offers multiple benefits.
Further details on Teknomek hygienic stainless steel equipment is available at www.teknomek.co.uk