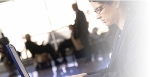 Server consolidation is driving deployment of virtualisation across enterprises of all sizes. But this virtualisation does not occur without pain as most traditional backup solutions do not offer full security in terms of backup and recovery.
SecurStore delivers a simple, awarded, elegant and cost effective agentless solution that enables the enterprise to maximise their virtualisation strategy while achieving superior information protection and recovery management without performance degradation. The SecurStore solution is one of very few that offers both ESX level backup and backup of the individual virtual machines themselves.
The agentless architecture of the SecurStore solution enables customers to back at ESX level and the virtual machines themselves without having to install agents on every virtual machine or the ESX allowing for more optimal usage of the capacity of the virtual server. The SecurStore solution applies both to WMware® and HyperV®.
The ESX level agentless backup architecture performs online backup and recovery of the vmdk files at block level. Giving customers the ability to recover an entire virtual machine to the same ESX or to a different ESX for Disaster Recovery.
The Virtual machine agentless backup architecture performs online backup and recovery without overburdening shared physical resources such as the CPU and memory on the ESX server. It centralises administration of local and remote physical locations and virtual server environments, providing file and application level backup and recovery in virtual machines.
"The ability of the SecurStore solution to give our customers a state of the art backup of their virtual environment has helped us tremendously to get new customers both at enterprise level and at the SME level. But most importantly it gives our current customers the impression that SecurStore, as a managed service provider, are providing them with superior value for their money," says Orn Gunnarsson the CEO of SecurStore.
Further details are available from www.securstore.co.uk