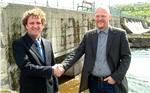 Keilir Atlantic Center of Excellence in Iceland has signed a research and development contract for wind pumps which could help increase the efficiency of hydroelectric power stations.
Keilir Atlantic Center of Excellence, located in the new Asbru business and education community at a former NATO base in southwest Iceland, has signed a research and development agreement with the Icelandic Energy Company (Íslenska Orkufélagið in Icelandic) for a wind-pumping mechanism.
When in use, the wind pumps hope to raise the water level in the reservoirs of hydroelectric power stations with the aim of increasing reliability and even overall power yield.
According to Asbru, entirely new avenues of energy creation could be created as the wind pumps could also allow engineers to make brand new hydroelectric reservoirs in places impossible at the moment: while electric pumps are highly effective, it is considered counterproductive to create hydroelectricity from water which had been pumped into the reservoir by electrically powered pumps. Wind pumping would eliminate that problem altogether.
The new agreement has also received positive feedback from Iceland's state owned utility company, Landsvirkjun. In fact, Landsvirkjun has also declared itself open to future co-operation on the project.
Prior to the new Keilir R&D contract, the Icelandic Energy Company (IEC) and Landsvirkjun have been researching the economics of wind-pumping as a usage possibility of wind-energy since last autumn. IEC has been working alone on the idea and its application since 2007. It is therefore not overly exaggerated to state that the project is snowballing.
Keilir's Energy Lab, which is located in Asbru in Reykjanesbaer, Iceland, will provide the location for further R&D activities.
For further details on the Keilir Atlantic Center of Excellence and the Asbru educational community in which it is located, visit www.asbru.is/English