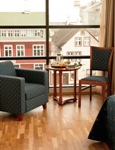 Hotels in central Reykjavik are the best way of experiencing the true taste of the city in style and comfort: no expensive taxi rides, no waiting for buses in the rain and the opportunity to stay out as late as you like.
Reykjavik Center Hotels are a collection of high quality hotels right in the heart of Reykjavik city centre and are proving a popular choice as excellent airline deals and a favourable exchange rate are making Iceland a more affordable destination than ever.
Center Hotels encompasses five stylish Reykjavik hotels, each with its unique atmosphere and facilities.
Hotel Plaza is located in old-town Reykjavik, close to restaurants, galleries, museums and attractively positioned on the corner of the pretty Ingolfstorg Square.
Meanwhile, Hotel Arnarhvoll is the newest hotel in the group, located in a quiet district of downtown. Surrounded by government offices and private houses, Arnarhvoll provides a gentler atmosphere, but is still in easy walking distance of all the best Reykjavik has to offer.
The Panorama restaurant has some of the most ambitious chefs and managers in Iceland today, and is located on the top floor of Hotel Arnarhvoll, offering Nordic / French cuisine.
With its stunning sea views, cutting-edge design and roomy environs, the Panorama Restaurant could hardly be better named.
Hotel Thingholt is located in the trendy Reykjavik neighbourhood of Thingholt, and just off the city's main shopping street. Based on Icelandic nature and folklore, it is one of the city's top boutique hotels. The hotel restaurant, Domo, is also one of the most celebrated eateries in Iceland.
Located on Laugavegur, downtown Reykjavik's main shopping street, Hotel Skjaldbreid is a bright and airy classically designed hotel with a small collection of well appointed rooms. The hotel is surrounded by excellent bars, cafés and restaurants on all sides; but buffet breakfasts are on offer, as well as tea and coffee round the clock.
Hotel Klopp is another of the most comfortable Reykjavík hotels: the warm rooms feature wooden floors, modern services and facilities. Hotel Klopp is also proud of its 40-person conference room, available at reasonable rates.
For more information on Reykjavik city centre hotels, visit www.centerhotels.com