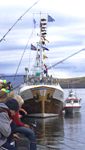 This weekend towns across Iceland will celebrate Seamen's Day with festivals and fun events for all the family. In the Reykjavik capital region, the Seamen's Day celebrations are called the Festival of the Sea.
One of Iceland's biggest Seamen's Day celebrations takes place in the south western town of Grindavik, where the four day-long programme of events includes art exhibitions, fairground rides, competitions and live music – including Bubbi Morthens and Friends, one of Iceland's most loved musicians.
Grindavik's amazing festival will also include a dog show, helicopter rides, a golf competition, water fights, pillow fights and special offers in local shops and eateries. The official event booklet even has a coupon allowing 2 for 1 entry to the nearby Blue Lagoon spa during the festival.
Reykjavik will celebrate its Festival of the Sea with a different but no less inspired set of summer activities. The two-day festival will completely take over Reykjavik's West Quay with activities ranging from puffin watching, fishing tours and rowing races to Viking fighting stunts and the opportunity to create a message in a bottle.
Other Reykjavik highlights include a fascinating selection of weird and wonderful fish and sea life, aeroplane flying stunts and a foghorn concerto where students from the Art Academy of Iceland's composition department play harbouring ships' foghorns along with the Reykjavík brass band.
Reykjavik's tastiest treat, however, is probably the fact that eight Reykjavik gourmet restaurants will be offering superb seafood feasts for a mere ISK 4,990 per person.
Notable events will also be going on in many other parts of Iceland, including Akureyri and Olafsfjordur in the North, Holmavik in the Westfjords and in Fjardabyggd in the East.
For further details on what to do during your visit to Iceland, visit www.visiticeland.com – where it is also possible to find contact details if you need any specific information about this weekend.